There aren't a lot of fetish-based cam sites out there, maybe they get overshadowed by regular live sex sites because they attract a lot of models, or it's a matter of quality, but you never know until you try them out. That's where FetishGalaxy steps in, this website has it spelled out for you, but will there be enough shining stars to justify the name?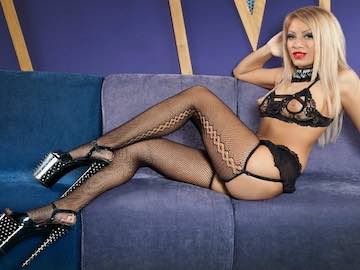 I like my BDSM camming experience fully immersive, the site, as the models, need to create that special environment where you'll feel like you're in a personal sex dungeon. But still, there's a lot of them who incorporate that rustic, unfinished look to their website, makes them look edgy, or at least that's what the people behind it think, the reality is not so generous.
Off To a Slow Start
Now, what do we have here, the very thing I was afraid of, that horrid "edgy" look. Considering they're about at the same level as other fetish-only chat sites, I could perceive the visuals as negligible. However, I can't just glaze over the fact that the site is horribly slow and sluggish, oftentimes infuriating.
If you were to click on a drop menu, it takes time for it to appear, and removing it from your sights is a whole other story. The model windows sometimes bug out and you get multiple instances of the same one overlapping, which gave me a headache. But at least I got to check out which categories here, and in all honesty, it's fairly well filled.
You will find the most popular ones without any hiccups, but going for something out of the ordinary might take you some prolonged searching. Even if you type out the desired fetish, there may not be any models performing it, like spanking or ballbusting webcam chat, that's pretty basic, and everyone loves it, but unfortunately, you won't find some.
Are The Features Any Good?
Now then, onto the raw numbers, they're the true showing of a site and its popularity. It's looking grim, the females go around 50 at best during a busy night, while the male and trans section get no love. There could very well be 1 or 2 in both of those at the same time which is as bad as it can be.
You can see which ones are dommes doing live cock and ball torture shows, and which are subs, a neat feature that can help you pinpoint your search. Still, I didn't like the fact that some submissive girls were wearing lingerie and suits that don't match their description, dressing in leather should be reserved for the domina unless she's wearing ballgags and leather straps.
The models do have a preview on this fetish webcam website, some of them are in private chats, so you get a recorded clip instead, and it can be confusing sometimes. I've found myself getting fooled time and time again, thinking "this is the one" when she was already in private, but it's mostly because those girls usually aren't presented on top at better cam sites, but it can still get in the way.
Someone's A Bad Boy
FetishGalaxy goes from average to bad real fast, the models are way worse than I've thought. Their attitude is hardly positive, sure some are roleplaying as mean bitches, but ignoring or refusing to write back sometimes gives them a bad look. Not nearly as the low quality of their streams does, the framerate is awful, usually lagging behind and cropping like they're in stop-motion.
Despite everything, I've wanted to try out the private chat. Surprise surprise, it's just the basic thing, no cam2cam (which is crucial for BDSM cams) in mobile, nothing to spark an interest. It's a lukewarm experience, not even worthy of calling this one a fetish site.
With everything presented, FetishGalaxy has pretty much nothing to offer, maybe someone who has never seen another site could get fooled, but not me. Even so, I doubt anyone sticks long enough to find out whether or not things are going to get better, it's just not worth it when there are way better alternatives.
Conclusion
A slow, boring fetish cam site, this is a new one, FetishGalaxy has managed to suck the fun out of one thing that's hard to spoil. In fact, it's so bad that I have to guide you towards something better, just so your time is not wasted on reading this whole thing, you deserve to know where the real kinky girls are.
Try out Streamate.com and you won't be sorry. They've got thousands of girls there, with a majority of them open to some wicked crazy BDSM play. On top of that, you get crisp quality and an interactive show with lots of toys, outfits, and most importantly, orgasms.